You want to experience different charms of Italy? On this tour, you discover by gravel bike the mountains in South Tyrol, with breathtaking views to endless meadows, barren rocks, dense forests and crystal-clear lakes. And some days later, the landscape opens and you ride over hilly vineyards to the Adriatic coast. This cycle journey guides you on the greatest paths from the Dolomite Alps to Venice.
7.400
Altitude difference
Highlights
Mountains and sea
Dolomite Alps incl. Tre Cime di Lavaredo UNESCO Natural Heritage Site
Breathtaking views to the Alps
Crystal-clear mountain lakes
Wine and grappa region Veneto
Venice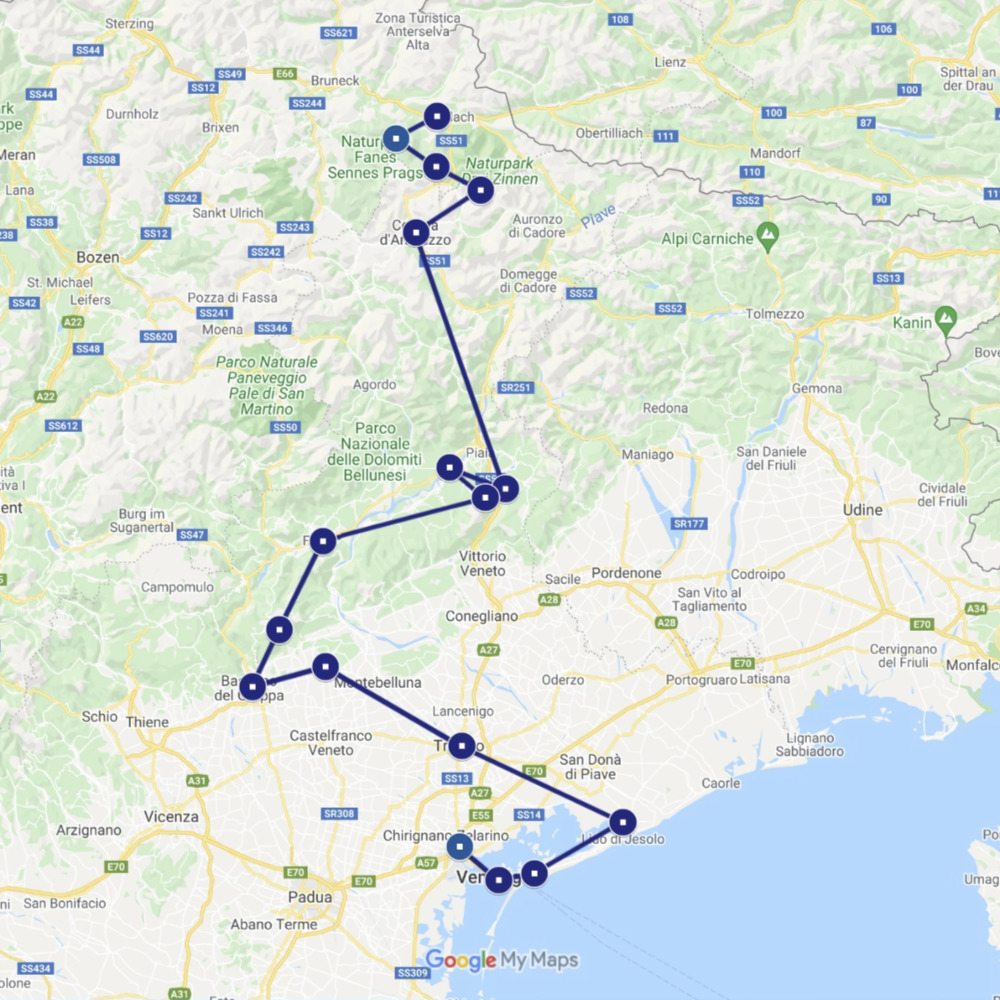 Itinerary
Services
Services
Extras
Accommodation
Included services:
7 nights in a double room
7x breakfast
GPS data
Local phone assistance
1x ferry (bike included) from Punta Sabbioni to Venice on Day 7
Luggage transfer from hotel to hotel
Secured payment certificate
Tour documents
Single room (additional fee of 209 EUR); if available: discount for 3 or 4 occupancy
Transfer from Venice/Mestre to Toblach/Niederdorf, on Wednesdays and Saturdays, incl. bike: 108,00 EUR p. p.
Rental gravel bike (Bianchi Impulso Allroad Alu – Shimano GRX (limited availability) or similar model): 190,00 EUR
Accommodation on Day 7 in Lido di Jesolo/Cavallino-Treporti instead of Mestre (additional fee from 48 EUR p. p.)
Extension of stay in Toblach/Niederdorf or Mestre/Venice or Lido di Jesolo/Cavallino-Treporti (price on request)
All partner accommodations are 3 or 4 star hotels. When we chose a partner accommodation, it's important to us that they all have anything that is particular. If available, the accommodations' specialties on our Northern Italy tour are:
Hotels in South Tyrol country style
Family owned
Local cuisine
Rooms covered with wood
Amazing view on the mountains
Quiet location
Hotel in the old town
Dates and prices
Tour starts:
13 May 2023 to 30 September 2023 (on Wednesdays and Saturdays only)
Prices:
Start 13 May and 20 Sept.: 719 EUR per person in a double room
Start 17 May to 14 June, and 16 Sep to 27 Sep: 819 EUR per person in a double room
Start 17 June to 13 Sep: 879 EUR per person in a double room
General information
Tour character
Arrival and departure
Travel and safety notice
30% gravel, 60% asphalt, 10% unpaved
6 Day stages
Altitude difference: 7,400 m
500 km
Nearest airports: Arrival: Innsbruck (A), Treviso, Venedig, München (D); Departure: Venedig, Treviso
By train: Niederdorf or Toblach (arrival), Venezia Mestre (departure)
By car: Niederdorf/Toblach
By transfer from Venice/Mestre: Departure on Wednesdays and Saturdays, pick-up at hotel, 108,00 EUR p. p. incl. own bike (see Extras)
By bus from Venice/Mestre: Daily departure, from railroad station Mestre to Cortina d'Ampezzo on Cortina Express (pre-booking required: www.cortinaexpress.it), then go on by public bus 445 to Toblach; carriage of bicycles only in bike bags)
Parking: unguarded public parking facility at no charge close to your accommodation, for the duration of the cycle tour
Please take account of the travel and safety notice of your home country for Italy and the regions Trentino-Alto Adige/Südtirol and Veneto, as same applicable regulations in these areas.
Might also be interesting for you