Discovering the northeast of Poland by gravel bike means riding through vast primeval forest and swimming in clean lakes in Masuria. You observe wild animals, pass colorful houses and charming wooden churches and you enjoy gorgeous views over natural waters, endless moorlands, fresh grassland and deep woods. Immerse in a region with warm-hearted people and marvelous food.
2000 m
Altitude difference
Highlights
Two of Europe's last primeval forests (Białowieża UNESCO natural heritage site and Augustów)
River valleys, marshes, deep woods, scenic lakeland
Biebrza National Park, Wigry National Park, Borkener Forst, Masurian Lakeland
Idyllic villages and towns
Synagogues and wooden churches
Castles and fortresses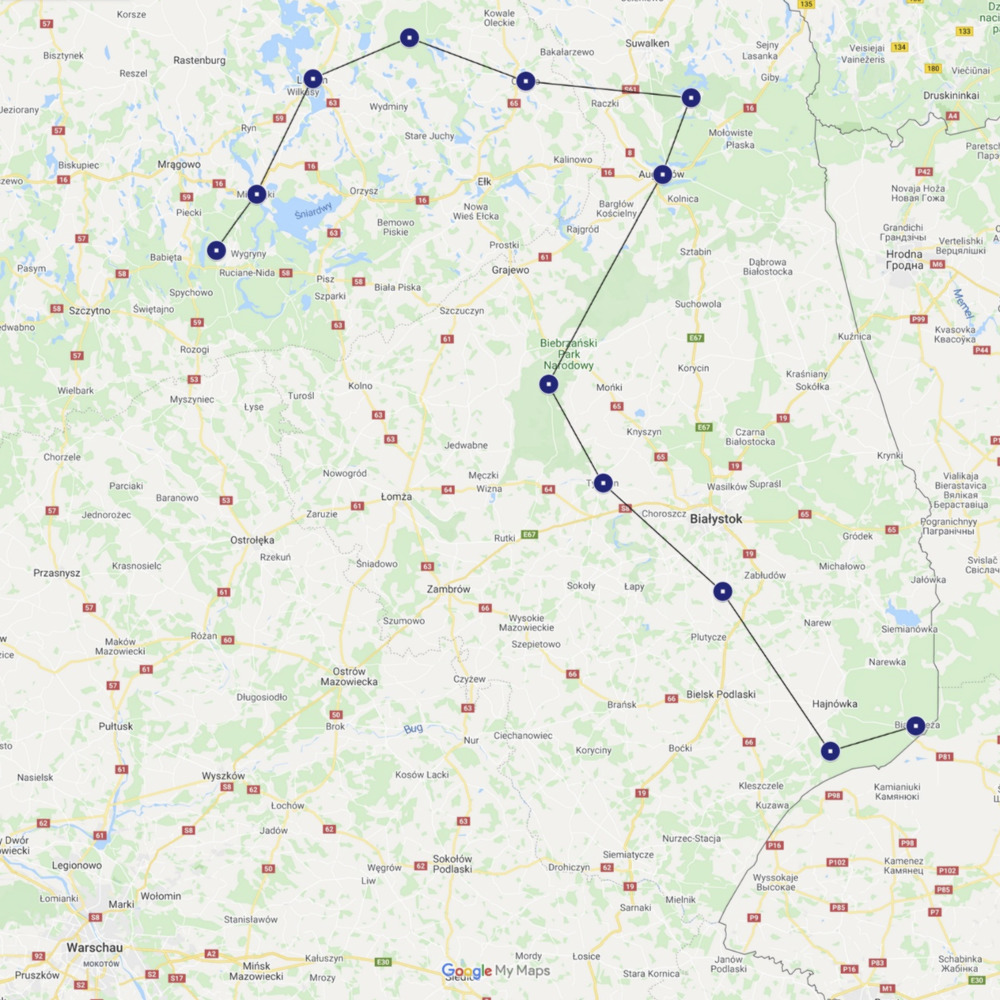 Itinerary
Services
Services
Extras
Accommodation
Included services:
8 nights in double room
Visitor's tax
8x breakfast
GPS data
Local phone assistance
National parks
Luggage transfer from hotel to hotel
Secured payment certificate
Tour documents
Transfer (bicycle included) from and to Warsaw (690 EUR altogether for 1-6 persons)
Transfer (bicycle included) from Krutyń to Białowieża (320 EUR altogether for 1-4 persons)
Transfer (bicycle not included) from Krutyń to Białowieża (160 EUR for 1 person)
Parking in Białowieża for entire duration (50 EUR)
Extension of stay at one of the overnight places (price on request)
All partner accommodations are middle class accommodations. When we chose a partner accommodation, it's important to us that they all have anything that is particular. If available, the accommodations' specialties on our Poland tour are:
Spa and wellness hotels
Quiet woodland hotels
One wooden hotel
Regional, high-quality breakfast
Sauna
Dates and prices
From 1 May 2023 to 31 October 2023
1099 EUR per person in a single room
869 EUR per person in a double room
General information
Nature of the ground
Arrival and departure
Travel and safety notice
ca. 50% gravel, 50% asphalt
7 Day stages
Altitude difference: 2,000 m
500 km
Nearest airport: Warsaw
By train: from Warsaw to Hajnówka (arrival), from Ruciane Nida to Warsaw (departure)
By Car: Białowieża
Transfer from and to Warsaw: see "Services/Extras"
Transfer from Krutyń to Białowieża: see "Services/Extras"
Please take account of the travel and safety notice of your home country for Poland and the Voivodeships Podlaskie, Masovia and Warm-Masuria, as same as the applicable regulations in these areas.
Might also be interesting for you